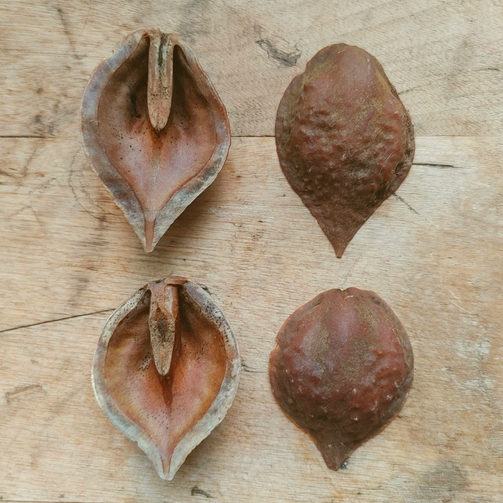 Heartnut - NB Source
Heartnut - NB Source
Regular price

Sale price

$15.00
Shipping
calculated at checkout. Shipping is free on orders over $250 before taxes.
These are our New Brunswick sourced heartnuts (Juglans ailantifolia var. cordiformis).  We also have a product listing for Ontario grown heartnuts here.  It may be worth getting some of each source to generate some interesting heartnut crosses in your own planting.  
----------------
Heartnuts are known for their adaptability and resilience, thriving in various soil types and climates. This makes them an excellent choice for both experienced gardeners and those new to cultivating trees.  They are resistant to butternut canker which is affecting butternut trees across their native range in North America.  For this reason, some nurseries are now breeding heartnut+butternut crosses commonly known as buartnuts or butterhearts, which are also available here.

One of its most valuable aspects is its production of edible walnuts that have more or less heart shaped inner shells and their ability to yield unbroken nut meat when cracked.  These nutritious nuts not only provide a delicious treat but also give you the opportunity to connect with nature and harvest your own bounty.

Whether you're aiming to create a shaded retreat, enhance the biodiversity of your garden, or enjoy homegrown walnuts, heartnut is a versatile choice that ticks all the boxes. Its graceful foliage, unique branching, and practical benefits make it a standout selection for any outdoor space
They should be planted in a full sun location and given lots of room to grow, as they do not like competition and can grow very large quicker than most other species.

Seed Source(s): New Brunswick
Hardiness (Canada): 5a [What is my hardiness zone?]
*Use the dropdown menu above to see bulk pack options*
Orders placed between Sept 1 and Oct 31: Delivery / ready for pickup in early November 2023
Orders placed between Nov 1 and Apr 15: Delivery / ready for pickup in late April or early May 2024
Couldn't load pickup availability