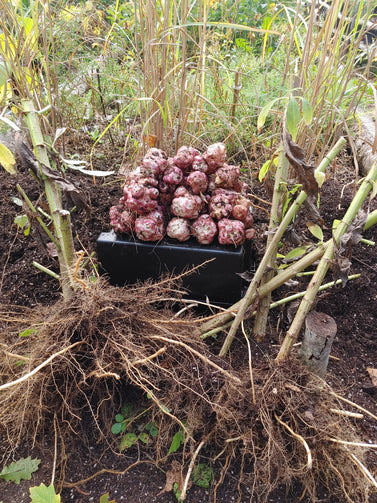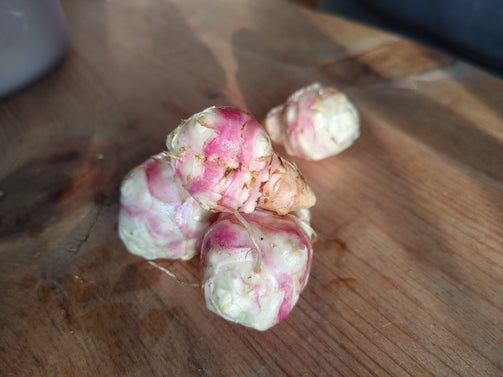 Jerusalem Artichoke (Helianthus tuberosus)
Jerusalem Artichoke (Helianthus tuberosus)
Regular price

Sale price

$14.00
Shipping
calculated at checkout. Shipping is free on orders over $250 before taxes.
Jerusalem artichokes (Helianthus tuberosus) are perennial plants in the sunflower family. A true multi-purpose plant, they produce a nutty/earth tasting tuber as well as bright yellow late season flowers on 4-10ft stems. The better the soil and growing conditions, the taller they'll be.  Our patch broke 11 feet in height in 2022! Once you get a patch of these established, you'll never run out!  Makes a great addition to a living wall or summer privacy screen.  

We are selling our two varieties by the pound (lb), which should be able to get you up to 10 plants in first growing seasons.  Large tubers can be cut up and will sprout into individual plants as long as you keep at least one 'eye'.
Hardiness (Canada): 4a [What is my hardiness zone?]
Sunset:  A chance meeting led us to acquire these red-skinned tubers a few years ago. It's possible they were a named cultivar whose origin was lost, but we've taken to calling them Sunsets.  The stems produce more flower branches than other varieties we've worked with, so if the above-ground portion of the plants are as important to you as the below, consider these a good choice!
Skorospelka: A reddish-skinned variety of Soviet origin.  Our Skorospelka patch produces big, blocky tubers.
*Use the dropdown menu above to see bulk pack options*
Orders placed between Sept 1 and Oct 31: Delivery / ready for pickup in early November 2022
Orders placed between Nov 1 and Apr 15: Delivery / ready for pickup in late April or early May 2023
Couldn't load pickup availability