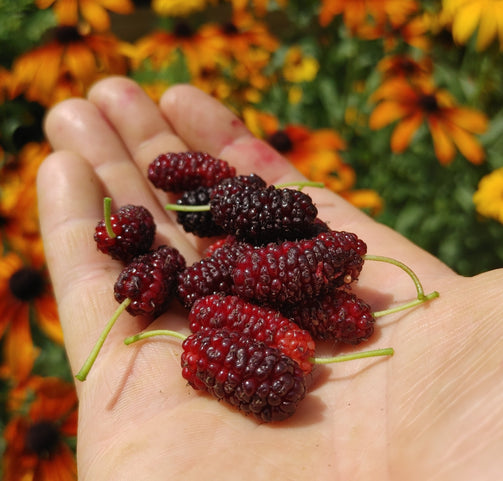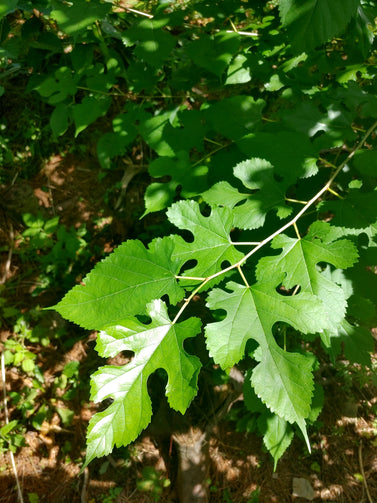 Tatarian White Mulberry - Unsexed
Tatarian White Mulberry - Unsexed
Regular price

Sale price

$29.50
Shipping
calculated at checkout. Shipping is free on orders over $250 before taxes.
Tatarian white mulberries (Morus alba var. tatarica, also known as Russian mulberry) produce edible fruit that look somewhat like an elongated blackberry. Fruit colour is variable from white to black and anywhere in between. Great for jams, preserves, drying, and fresh eating. Our trees are unsexed, meaning they could be male, female, or of the monoecious type that have both types of flowers on the same tree. Only females and monoecious trees can produce fruit.  These are the most cold hardy mulberries for our northern climate.
Canadians are largely unfamiliar with mulberries and their only cultural reference to them are from nursery rhymes where they are referred to as bushes. You should know that these are trees that can grow 30-50ft tall at maturity, though they can be pruned aggressively once they get well established.
Seed Source(s): Ukraine
Hardiness (Canada): 4b [What is my hardiness zone?]
Light Requirements:  Part Sun - Full Sun
Orders placed between Sept 1 and Oct 31: Delivery / ready for pickup in early November 2023
Orders placed between Nov 1 and Apr 15: Delivery / ready for pickup in late April or early May 2024
Couldn't load pickup availability