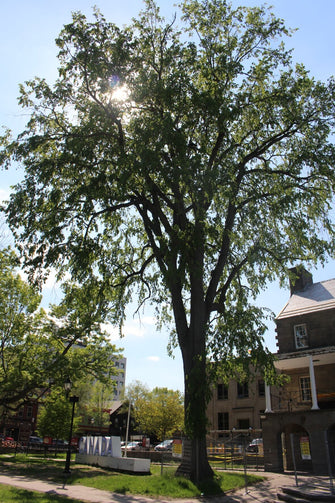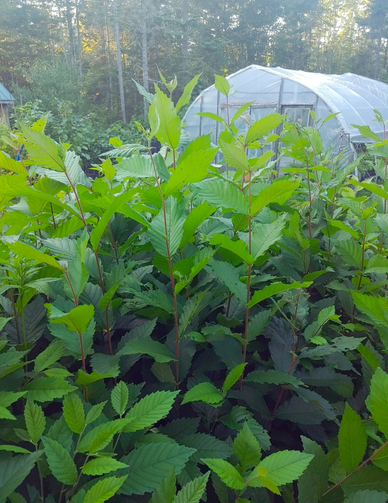 White Elm (Princeton Parent Seedlings)
White Elm (Princeton Parent Seedlings)
Regular price

$14.50

Sale price

$9.50
Shipping
calculated at checkout. Shipping is free on orders over $250 before taxes.
Our 2023 batch of white elms are seedlings of 'Princeton', a dutch elm disease resistant cultivar released in 1922.
White elm (Ulmus americana), often called American elm, is a fast growing, large tree species native most of eastern Canada and the United States.  Before the introduction of dutch elm disease (DED), mature specimens commonly reached over 100 feet tall with over 4 feet diameters (at breast height).  There are still giant old survivors to be seen out there on city streets and while driving through farm country, but they are rare.
Disease resistant cultivars have been selected from individuals that showed a high degree of resistance to DED.  Our 2023 batch of white elms are seedlings of one such cultivar named Princeton.  Although they are not clones (grown from tissue culture, cuttings, layers, or suckers), it is likely that progeny of resistant cultivars are imparted with a higher degree of resistance than randomly selected seedlings grown from non-resistant parents.
Seed Source(s): USA
Hardiness (Canada): 3a [What is my hardiness zone?]
*Use the dropdown menu above to see bulk pack options*
Orders placed between Sept 1 and Oct 31: Delivery / ready for pickup in early November 2023
Orders placed between Nov 1 and Apr 15: Delivery / ready for pickup in late April or early May 2024
Couldn't load pickup availability